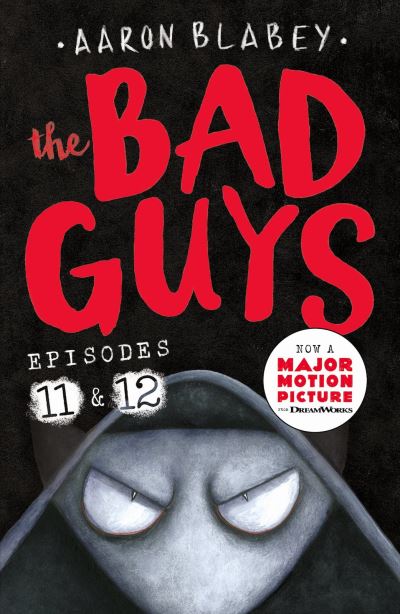 The Bad Guys. Episode 11, Episode 12
€8.50
Two laugh-out-loud stories in one brilliantly illustrated book, from award-winning creator Aaron Blabey. Soon to be an animated film.
Description
 
Two Books in one! Episodes 11 & 12 in the hit Bad Guys series – soon to be a feature film animation.
"I wish I'd had these books as a kid. Hilarious!" – Dav Pilkey, creator of Captain Underpants and Dog Man
They sound like the Bad Guys, they look like the Bad Guys … and they even smell like the Bad Guys.
But Mr Wolf, Mr Piranha, Mr Snake and Mr Shark are about to change all of that – whether you want them to or not!
EPISODE ELEVEN: THE DAWN OF THE UNDERLORD
The Bad Guys – sorry, Shadow Squad-G – have finally saved the world from butt-handed evil. And now it's time to celebrate! But when one member of the team makes a shocking discovery, the party might be over sooner than everyone thinks…
EPISODE TWELVE: THE ONE?!
Seriously, WHAT is going on with Snake?! Terrible powers have been revealed! Evil allies have materialized! Inter-dimensional doors have opened! Shady-looking cloaks have been purchased! What is his deal?!And that's not all! Why does Agent Fox suddenly have a whole lot more backstory than we'd counted on?! Dang it! We need answers! WHAT IS GOING ON HERE?!Wolf and the gang are back. And things are worse than ever. Or badder than ever… if you think that sounds cooler and don't have a problem with bad grammar.BAD GUYS #12 WILL MELT YOUR BRAIN…
ABOUT THE SERIES
Full of hilarious line illustrations throughout
Fans of Dog Man, Cat Kid and Captain Underpants will love this series
Perfect for children who a struggling with reading – or who just want to laugh their socks off
The Bad Guys feature length animation will release in UK cinemas on 1 April 2022
Praise for The Bad Guys: "[T]his book instantly joins the classic ranks of Captain Underpants… We challenge anyone to read this and keep a straight face." – Kirkus Reviews
BOOKS INCLUDED IN THIS TWO BOOK BIND-UP EDITION
Episode 11:Â The Dawn of the Underlord
Episode 12:Â The One?!
Additional information
| | |
| --- | --- |
| Weight | 0.31 kg |
| Dimensions | 19.6 × 13.7 × 2.5 cm |
| Book_author | Blabey, Aaron |
| Publisher | Scholastic |
| Imprint | Scholastic |
| Cover | Paperback |
| Pages | 380 |
| Language | English |
| Edition | Omnibus ed |
| Dewey | 823.92 (edition:23) |
| Readership | Ages 5-12 / Code: B |